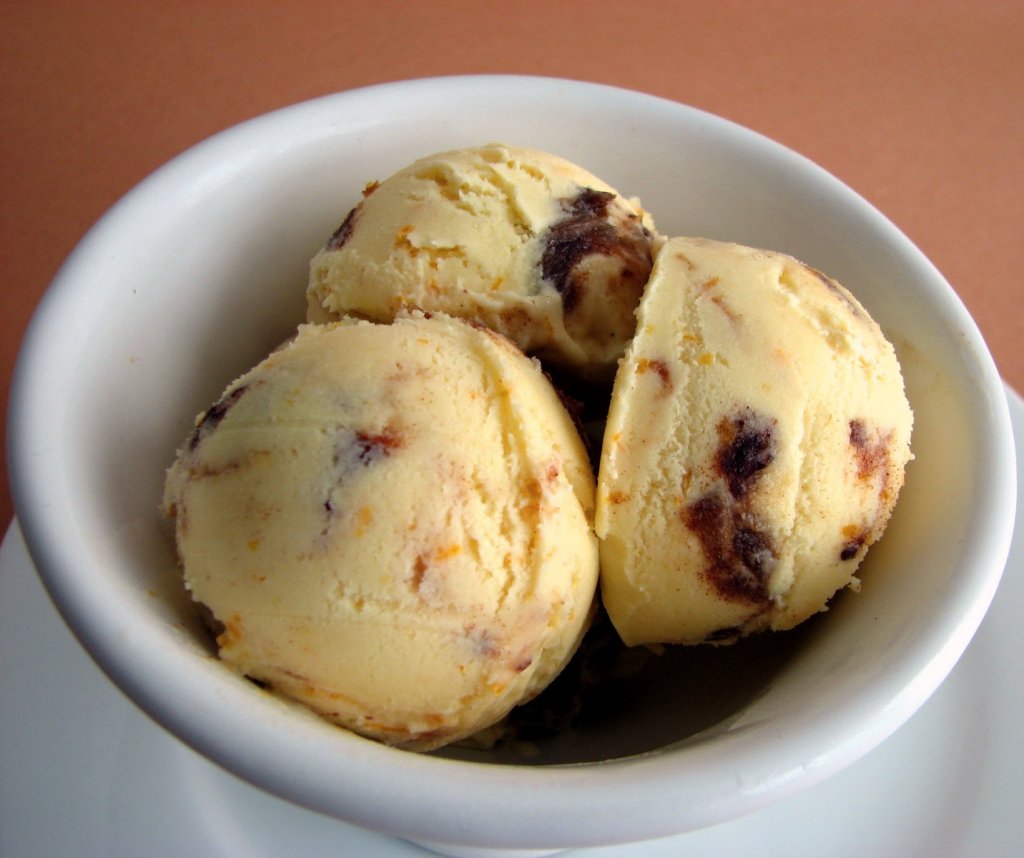 Orange Date Ice Cream
Photo by Pastry Studio
I started thinking one day how much I love dates, and decided to see if there were any good ice cream recipes out there using them. I came across this original recipe for Orange Date Ice Cream from Pastry Studio and knew right away that it had to be something special.  Not just dates, but oranges, honey, brown sugar, cinnamon, sherry, and Grand Marnier also. It turned out to be even more delicious than it sounds. Definitely another spectacular ice cream loaded with complex flavors. Give it a try, and check out the Pastry Studio blog for lots of other great desserts as well.
1 cup whole milk
2 tablespoons honey
Zest of 2 large navel oranges
1 cup heavy whipping cream
1/4 cup orange juice
1 teaspoon lemon juice
4 egg yolks
1/3 cup sugar
1 teaspoon Grand Marnier
Pinch of salt, to taste
1/4 cup amontillado sherry (or other full-flavored variety)
1 1/2 tablespoons water
2 tablespoons brown sugar
Zest of half an orange
1/4 teaspoon cinnamon
Tiny pinch of salt
6 Medjool dates
Makes one and a half quarts.
Directions from Pastry Studio:
Place milk, honey and the zest of 2 oranges in a saucepan and bring to a low simmer. Remove from heat and steep for 30 minutes.
Combine heavy cream, orange juice and and lemon juice in a bowl with a strainer placed on top. Set aside.
Whisk the yolks and sugar until thick and pale. Add warm milk mixture in a steady stream, whisking constantly until combined. Pour mixture back into the saucepan and cook over moderate heat, stirring constantly with a wooden spoon, until mixture coats the back of the spoon. Remove from heat and pour through the strainer into the bowl with the cream mixture. Whisk to combine and cool. Add Grand Marnier and a pinch of salt to taste and whisk until thoroughly combined. Place in a clean airtight container and chill overnight.
Chop the dates into small pieces. Place sherry, water, brown sugar, orange zest, cinnamon and salt in a saucepan over low heat. Bring to a slow boil for about 2 or 3 minutes, stirring continuously. Add the chopped dates and lower heat. Cook a few more minutes until the liquid is absorbed.
Freeze the orange ice cream base in your machine. Pour about half of the ice cream into a clean container. Dot the surface with half of the date mixture. Pour another layer of the ice cream on top. Dot the surface with the remaining dates and use the tip of a spoon to press them down into the ice cream. Press a piece of plastic wrap onto the surface, cover and place in your freezer until firm.