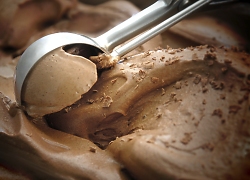 There's a particular chocolate ice cream recipe that I've nicknamed "Oh My God Chocolate", because those are usually the first words spoken by any female that tries it. It's deep, rich, and creamy, and makes my wife's eyes roll to the back of her head when she eats it. But when I used it once as a base for Rocky Road ice cream, it didn't work at all. All the flavors of the almonds and marshmallows were completely hidden by the rich chocolate. The trick, I discovered, is figuring out whether to use melted chocolate or cocoa powder, and how much of it to use in relation to the other ingredients.
Three recipes
The "Oh My God Chocolate" recipe is actually "New York Super Fudge Chunk", from Ben & Jerry's Homemade Ice Cream & Dessert Book. It's got pieces of white chocolate, semisweet chocolate, pecans, walnuts, and chocolate-covered almonds in it. It's incredible. But the base of that ice cream is from another recipe in their book, "Ben's Chocolate". The interesting thing about "Ben's Chocolate" is that it uses melted chocolate instead of cocoa powder.
There's also a "Jerry's Chocolate" ice cream recipe in that book, and it's roughly the same, but with a couple of differences. First, half of the melted chocolate is replaced with an equivalent amount of cocoa powder. And second, more milk is used, so it's not quite as heavy and thick.
And there's also a "Light Chocolate" recipe that uses even less melted chocolate and more cocoa powder, but both of those ingredients are toned down quite a bit to allow other flavors to come through. The book mentions that it works well with cinnamon, malt, mint, and peanut butter. And also almonds and marshmallows, as I discovered, to make a great Rocky Road.
The three recipes:
Ben's Chocolate

4 ounces unsweetened chocolate

1 cup milk
2 large eggs
1 cup sugar
1 cup heavy or whipping cream
1 teaspoon vanilla extract
1 pinch salt

Jerry's Chocolate

2 ounces unsweetened chocolate

1/3 cup unsweetened cocoa powder

1 1/2 cups milk
2 large eggs
1 cup sugar
1 cup heavy or whipping cream
1 teaspoon vanilla extract

Light Chocolate

1 ounce unsweetened chocolate

1/4 cup unsweetened cocoa powder

1 1/2 cups milk
2 large eggs
3/4 cup sugar
1 cup heavy or whipping cream
1 teaspoon vanilla extract
Time for a taste test

First was Ben's Chocolate. As expected, it's deep, thick, and rich in a way that causes people to make strange noises. There's just something about the taste that makes you want to close your eyes and block out the rest of the world so you can enjoy every last nuance of the powerful flavor. It uses less milk than the other two recipes, so the flavor is more intense. And if you add in all the nuts and chocolate pieces to make "New York Super Fudge Chunk" it's even thicker. All those nuts and chocolate pieces make a great texture, but I'd have to say it's pretty hard to tell the difference between them all as you're eating them. It doesn't matter though, chocolate is the only flavor that counts in this recipe.
Next was Jerry's Chocolate, with half melted chocolate and half cocoa powder. This recipe was my favorite actually — it's just a straight-forward, rich chocolate ice cream that makes you say, "wow, that is good!" but isn't so overpowering that you feel like you could only eat a few bites of it. My two female taste testers both loved it too, but they were very clear on one point — do NOT change the Oh My God Chocolate recipe!
And finally the Light Chocolate. On its own, it seems a bit pale, both in color and in flavor. It still has more flavor than cheap grocery store chocolate ice cream though, and of course it's still a very high butterfat recipe, so it's smooth and creamy. It's a good choice when you want to highlight other flavors, but probably not what you want when you just want chocolate ice cream.
A fourth recipe
The "Jerry's Chocolate" recipe, with its mix of melted chocolate and cocoa powder, was so good that I decided to make up a fourth recipe that had all cocoa. I replaced the 2 ounces of melted chocolate with another 1/3 cup of cocoa powder, but left everything else the same. It was very similar to the original "Jerry's Chocolate" recipe, but when I tried the two side-by-side, there was a definite difference. The one with only cocoa powder had a taste that was like… well… cocoa powder. Like chocolate milk. The one with a mix of cocoa and melted chocolate had two distinct flavors, and it was a slight bit more dense. I decided I really liked the complexity of the two flavors together, so I think the original "Jerry's Chocolate" recipe is the winner between those two.
Conclusion
There seem to be three things going on here. The type of chocolate (to control the flavor), the amount of chocolate (to control how much other flavors come through), and the amount of milk (to control the density, and intensity). The "Light Chocolate" works great when other strong flavors are used. The "Jerry's Chocolate", with half melted chocolate and half cocoa, is my favorite because of its complex taste. But for a complete indulgence in decadent chocolate flavor, only the "Ben's Chocolate" will do.
Melting chocolate
One more thing… If you've ever tried melting chocolate in a double boiler, you've no-doubt experienced the dreaded "seizing of the chocolate", where it suddenly changes from a smooth liquid into a horrible mess that looks something like a pile of coffee grounds. They say this happens if you get even the slightest amount of liquid in the chocolate, but the first few times I made chocolate ice cream, it happened every time, no matter what I did. Once it seizes, you can get the chocolate back to normal by adding more liquid, ironically enough.
The solution to this problem is to heat the chocolate, cocoa powder, milk, and cream all together on medium-high heat. Having all that liquid in there from the beginning keeps it from seizing. Whisk it fairly often, and you'll see that at some point it changes from looking like tiny bits of chocolate mixed in with the cream, to a smooth, consistent, chocolate cream – usually about the point it starts to bubble. You can then follow the basic process in my Sweet Cream Base post to get everything mixed together.
Happy indulging!